Family remembers Route 50 crash victims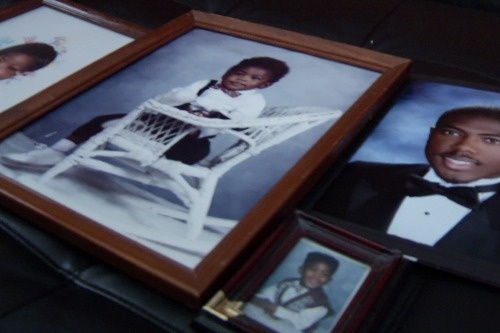 Sharon Stratton, Travis's aunt says, "It's hard to believe that such a beautiful person and such a wonderful individual is gone and we'll never see him again."
An Accomack County family is heartbroken after hearing devastating news Saturday morning.
25- year old Travis Stratton, his girlfriend 24-year old Regina Ayres, their 2- month- old son Jonathan, Regina's 7- year- old daughter Jordan, and her pregnant sister 30- year old Zarissa Ayres were all killed in a car versus tractor trailer crash on route 50– on their way to Zarissa's baby shower in Baltimore.
Elisa Reid, Travis's aunt says, "I thought I was dreaming, I wanted to be dreaming."
Travis's family says they're using faith to get them through this. They say he's a real home town guy. Born and raised in Onancock, he excelled in sports at Nandua High School, worked at Perdue Farms, and his family says he loved music. However, most of all they say he was a loving family man, especially to his 2- month- old son Jonathan he had with Regina
Edward Stratton, Travis's brother says, "He looked just like him, but he was a very smart baby."
Travis' brother, Edward, admits his older brother was a positive influence on him.
Edward Stratton, Travis's brother says,"He taught me respect, discipline, a lot of things a parent should do."
That's because about 18 months ago, Travis's father died, so he stepped in as the man of the household. Now that's he's gone, his 15- year- old brother is prepared to take on the role caring for his mother.
This is something the family members say Travis always did.
Stephen Stratton, Travis's uncle says, "This is something to give a wake up call to everybody, life is very valuable and short."
Bessie Stratton, Travis's mother, asked not to be interviewed on camera with 47ABC because it would be too difficult to discuss the loss of her son, and that of her only grandchild.
However off camera, Stratton told 47ABC her son was quote "a beautiful person, he's here with us, and we'll miss him dearly."
The Stratton family tells 47ABC they will let us know when funeral arrangements have been made for Travis and his two-month old son Jonathan.
As for Regina, Zarissa, and Jordan, the Stratton family admits they don't know much about the Ayres family.
Maryland State Police tell us a number of family members from the Baltimore area did come to the crash scene at Wye Mills  after they had heard what happened.
As for the crash investigation, today the only new information released was that detectives determined that there was evidence to suggest that Zarissa Ayres, Regina's pregnant sister, was the driver of the car.