15 arrested, three wanted, after Delaware drug trafficking bust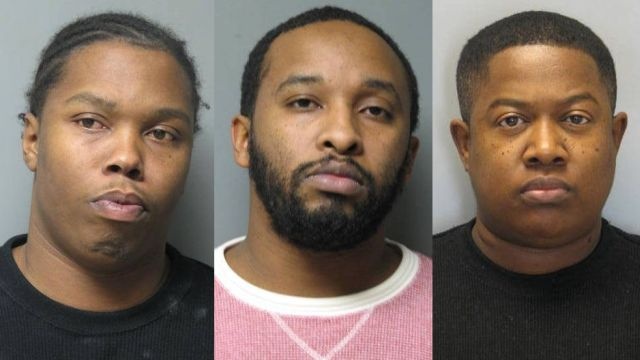 A ten month drug investigation into illegal drug trafficking in Kent County has led the the arrests of 15 people, on drug charges.
Delaware State Police say Operation L.I.E. (Loyalty Is Everything) has been a multi-jurisdictional investigation, during which 18 people were either arrested or indicted, on a total of 150 criminal charges.
Police say during the last two months of 2014 along, the organization distributed more than 500 grams of heroin. Towards the end of the investigation, Authorities reportedly found that the group was going to mix a deadly combination of Fentanyl and heroin, to sell in Kent County, so they took action to dismantle the drug network.
Operation L.I.E. apparently started back in March 2014, looking at an illegal drug trafficking organization, who Police say was headed by 29-year-old Jermaine Brinkley, of Dover, 28-year-old Warner Henry, of Smyrna, and 40-year-old Tyra Mills, of Dover.
Officials say they searched 15 locations throughout Kent County, Wilmington, and Philadelphia, Pennsylvania. According to the report, during the searches, 39 grams of heroin, 23 grams of suspected Fentanyl, 5 handguns and ammunition, $79,000 in suspected drug proceeds, and 3 motor vehicles, were seized.
Law enforcement then worked to get Jermaine Brinkley, Tyra Mills, and Warner Henry indicted in the Kent County Superior Court. Brinkley was charged with a total of 39 felony crimes including racketeering and numerous drug offenses, and is currently being held at the James T. Vaughn Correctional Institution on $1,467,000 cash bail.
Mills and Henry were each charged with 9 felony crimes including racketeering, drug, and weapons offenses. Henry is behind bars at the James T. Vaughn Correctional Institution on $509,050 cash bail. Mills is being held at Delores J. Baylor Women's Correction Institution on $226,000 cash bail.
Others arrested in connection to the investigation:
George, Brinkley, 24 of Dover, Delaware
Kyle Scott, 26 of Dover, Delaware
Jacqueline Henry, 52 of Dover, Delaware
Shaquille Dixon, 21 of Dover, Delaware
Charles Roach, 31 of Dover, Delaware
Allison Morris, 26 of Dover, Delaware
Geoboris White, 42 of Bear, Delaware
Jonathan Reed, 24 of Wyoming, Delaware
Andrea King, 29 of Smyrna, Delaware
Bruchette Henry, 30 of Smyrna, Delaware
Elsie McClain Doughty, 29 of Cheswold, Delaware
Manlio Galvez, 42 of Philadelphia, Pennsylvania
Delaware State Police say they are still searching for three others, who have been indicted on drug dealing related charges, in the investigation. 27-year-old Monique L. Harris, of Dover, 29-year-old Lida M. Clark, of Dover, and 29-year-old Lauriea D. Johnson, of Rockhall, Maryland.
Anyone with information about Harris, Clark, or Johnson's whereabouts is asked to contact Sgt. L. Skinner at 302-741-2798 or by calling Delaware Crime Stoppers at 1-800-TIP-3333. Tips can also be submitted to the DSP Mobile Crime App, texting DSP to CRIMES (274637), or by visiting the Tip Submit website.
"These significant arrests send a clear message to the public that the law enforcement community is going to work together in any way we can to protect the public and take criminals of the street," said Attorney General Matt Denn.
"This investigation targeted drug traffickers operating in Kent County responsible for the importation and distribution of heroin and cocaine throughout the State of Delaware. This investigation continues to emphasize the impact and the benefit to our communities when all of our agencies are working together," said Colonel Nathaniel McQueen Jr., Superintendent of Delaware State Police.
Locations searched during the investigation reportedly include:
· 100 block of Presidents Drive, Capital Park, Dover, DE
· 200 block of North Governors Boulevard, Dover, DE
· 200 block of South Governors Boulevard, Dover, DE
· Unit block of Briar Lane, Briar Park, Dover, DE
· 200 block of Thornton Street, Lexington Glen, Dover, DE
· 300 block of West Third Street, Wyoming, DE
· Unit block of Fieldstone Road, Kingscroft, Bear, DE
· 100 block of Buckson Court, Bear, DE
· 1200 block of Sycamore Street, Wilmington, DE
· 1700 block of Conrad Street, Wilmington, DE
· 800 block of Bennett Street, Wilmington, DE
· 6300 block of Tulip Street, Philadelphia, PA
· 4100 block of O Street, Philadelphia, PA