Senior Stars Shine Bright In All-Star Game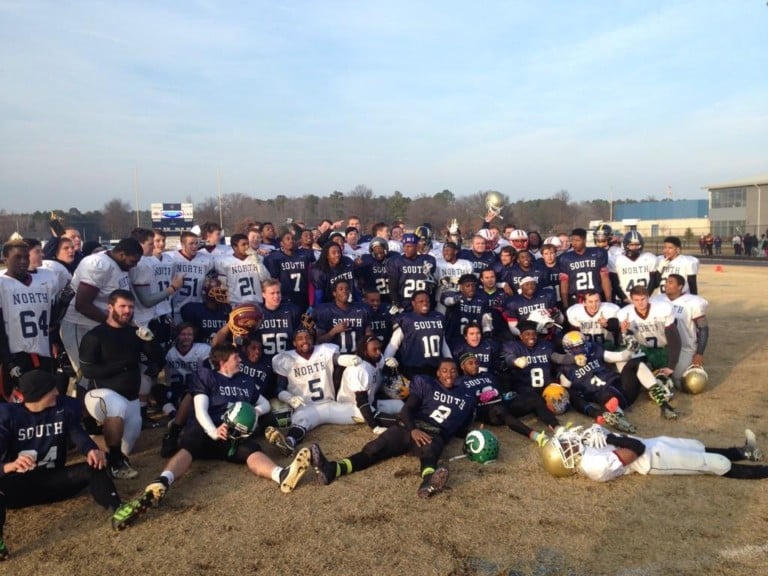 With basketball season heating up, the boys of fall gathered one more time to play in the 2014 Senior Bayside All-Star Bowl. Teams composed of seniors split up between Bayside North and South teams competed, with the North coming out with the 28-6 win at Cambridge South Dorchester Saturday afternoon.
The North team got on the board first when Jaelon Moaney took a read-option 33 yards to the endzone in the first quarter. The Easton Warrior would score another read-option in the second quarter, this one from 9 yards out. The runs gave the North a 14-0 lead heading into the half.
The South came out swinging in the second half, Wi-Hi's Nelson Brown would get his squad on the board with a 8 yard touchdown run to cut the lead to one score. But the North All-Stars responded in a big way, with a drive down the field capped off with a 11 yard touchdown run by Easton's Leon Flournoy. The North's win would be capped off with a late 2 yard touchdown run by Kent Island offensive tackle Mike McCasslin, bringing the final score to 28-6.
In the end, Wi-Hi swept the south postgame awards with running back Nelson Brown (109 yards, 1 TD) winning the offensive MVP honors, while linebacker Melvin Morris (11 tackles, 1 tfl, 1 sack) won defensive MVP. For the north, Kent Island linebacker Zac Woehlke took home defensive honors, and Moaney (149 yards, 2 TDs) took home offensive MVP honors.