Man Dead After Police-Involved Shooting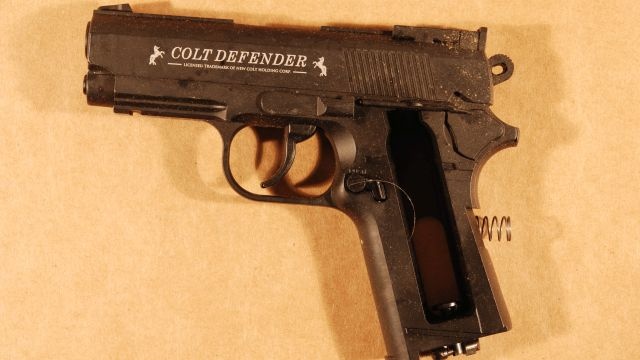 A man is dead after what police say was an "officer-involved shooting" on early Sunday morning.
Authorities say around at 10:38 p.m. Saturday, dispatchers received a call from a Crisis Center. They were allegedly told 52-year-old James Long was having suicidal thoughts and had vocalized a plan to commit "suicide by cop." according to Dover Police.
Police say Long was involved in previous incidents with the Dover Police Department, including one occasion where similar threats were made.
Officers arrived at 50 Greenway Square at 10:46 p.m. and made entry into Long's apartment shortly after midnight. Authorities say Long displayed what was believed to be a firearm (as pictured) and pointed it at the officers. This is when police say they fired their department issued firearms, striking Long twice.
We're told officers immediately began to render first-aid until EMS arrived a short time later.
Long was transported to the Bayhealth Kent General Hospital, where he was later pronounced dead.
After the shooting, investigators discovered that the weapon Logan discovered was a pellet/BB gun that resembled a Colt semi-automatic handgun. They also discovered Long had booby-trapped his apartment with an improvised device designed to mix dangerous chemicals that would have created a toxic gas "in order to cause injury or death to police officers." according to Dover Police.
The officers involved in the shooting are a 10-year-veteran corporal and a 6-year 1st class Patrolman.
Both officers have been placed on administrative leave with pay in accordance with standard department policy, until an internal investigation in conjunction with an investigation by the State of Delaware Attorney General's Office has been completed.
Neighboring residents were evacuated prior to officers making entry into Long's apartment for approximately one hour.