Democrat Naomi Hyman running for State Senate District 37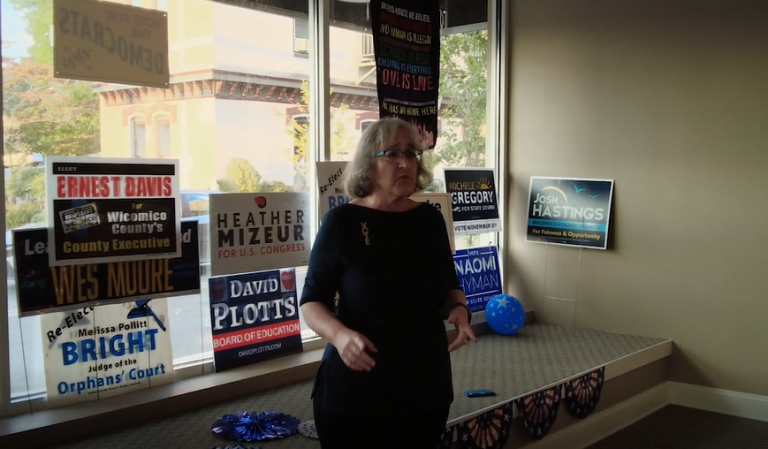 SALISBURY, Md. – Democratic candidate Naomi Hyman is running for the seat currently up for grabs in State Senate District 37.
47 ABC got the chance to speak with Hyman at a meet-and-greet event Monday evening in Salisbury hosted by the Wicomico Democratic Central Committee. It was there that Hyman addressed a crowd of voters and explained why she's running and why she hopes to gain their support.
"It became very clear to me, especially in the last eight years, that the best way that I could serve my community is to run for office and to try to meet the needs of all of my community, not just some," Hyman told our Rob Petree. "I am running because I've had a long career in community service, I've always wanted to do what was going to help the most people, the best way that I could."
Hyman grew up in a lower middle-class neighborhood outside of Pittsburgh. She has worked as a professional-adult educator for over 40 years in settings ranging from large corporations to small community-based organizations. She currently serves as Vice Chair of the Talbot County Democratic Central Committee.
If elected, Hyman says her focus first and foremost will be on economic opportunity for her constituents.
"Jobs, jobs, jobs," Hyman said. "Well-paying jobs, in a local economy where affordable housing is available, just those three things would make an enormous difference to pretty much everybody."
Hyman will face off against Republican candidate Johnny Mautz in the general election this November. Mautz recently beat longtime Senator Addie Eckardt, a 28-year veteran of the General Assembly, in Maryland's primary election.
The general election will take place this Tuesday, November 8, 2022.