Sen. Van Hollen introduces legislation to reform flood insurance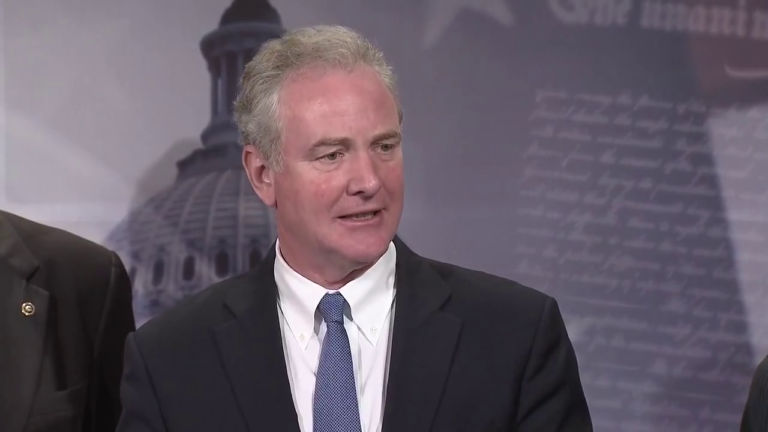 Learning from the disastrous flooding last year in Ellicot City Maryland Sen. Chris Van Hollen (D-Md) helped introduce legislation Tuesday to help protect citizens when the worst happens.
Van Hollen along with Sen. Bob Mendez (D-NJ) and Sen. John Kennedy (R-LA) announced legislation called The Sustainable, Affordable, Fair, and Efficient (SAFE) National Flood Insurance Program Reauthorization Act of 2017 would create sweeping reforms for flood insurance.
"From Ellicot City to the Eastern Shore, flooding impacts communities across Maryland," Van Hollen said. "We need to reform the National Flood Insurance Program to ensure that families and businesses have the affordable coverage they need, our flood maps are based on the most up-to-date science, and the NFIP program has long-term stability for communities across the country."
According to Van Hollen the flood maps in Maryland are outdated adding the average age of a flood map in the state is 18 years old.
Van Hollen said he heard the horror stories from those in Ellicot City about how they thought their insurance had covered them for flooding and were confused when they were left out to dry by insurance companies after the floods.
"This is probably one of the most confusing areas if not the most confusing area of insurance, a lot of people don't realize that it's not part of their regular coverage and a lot of people who thought they had it and bought it that when it comes time to need it and use it they say sorry you're not covered," Van Hollen said.
The bill is truly a bi-partisan split with 3 republican sponsors and 3 democratic sponsors.
Congress must re-authorize the National Flood Insurance Program by the end of September.