Sen. Kaine to vote in opposition of Judge Gorsuch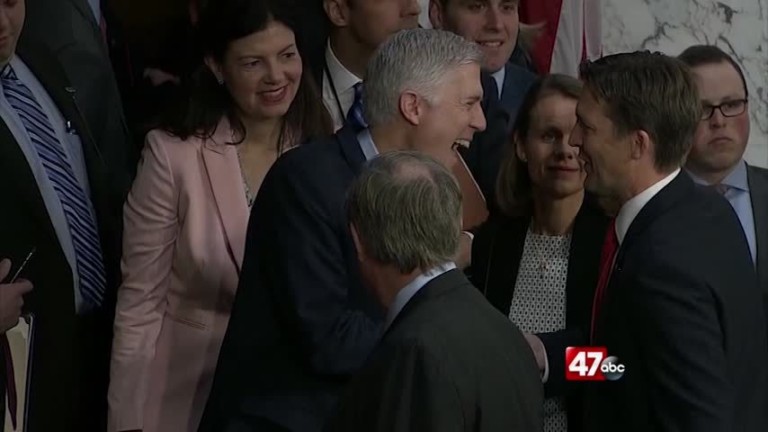 U.S. Senator Tim Kaine of Virginia will be voting in opposition Supreme Court nominee Judge Neil Gorsuch, the democratic senator announced Wednesday.
"I don't think the claim that 'Judge Gorsuch is an originalist, but he's not activist'…I don't think that's accurate," says Senator Kaine.
Judge Gorsuch is President Donald Trump's pick to fill the seat left vacant by the late Justice Antonin Scalia, who died in February 2016.
Senator Kaine says he's basing his decision to vote in opposition "off of merit". He told reporters Wednesday that written articles and opinions by Gorsuch, particularly regarding past cases over women's rights, have him concerned.
"In a case dealing with contraception, it was about the ability of women employees of Hobby Lobby to access contraception through their own healthcare decisions," says Kaine. "He described the case as involving quote 'the wrongdoing of others' and that was his own language."
However, the senator did praise Gorsuch's professional and educational background. These are valuable qualities Senate republicans appear to also agree on.
U.S. Senator Lindsey Graham of South Carolina cited a report from the American Bar Association ('ABA') on Wednesday, claiming Gorsuch is one of the most qualified people in the country to be on the Supreme Court.
"If you don't believe me, look at the ABA report: 900 pages, 500 people interviewed, law clerks, lawyers, judges," says Senator Graham. "All those who have served with Mr. Gorsuch for a long period of time, and they came to the conclusion that he was well-qualified at the highest rating."
Maryland U.S. senators Ben Cardin and Chris Van Hollen have also released statements about their intentions to vote 'no' on Gorsuch.
U.S. Senator Chris Coons of Delaware appeared on national television this week claiming if Gorsuch is confirmed, he would "by some measures, be the most conservative judge on the Supreme Court."
The Senate Judiciary Committee is expected to approve the Gorsuch nomination on Monday, April 3 with vote to be held next Friday, April 7.