Major renovations underway at low-income housing community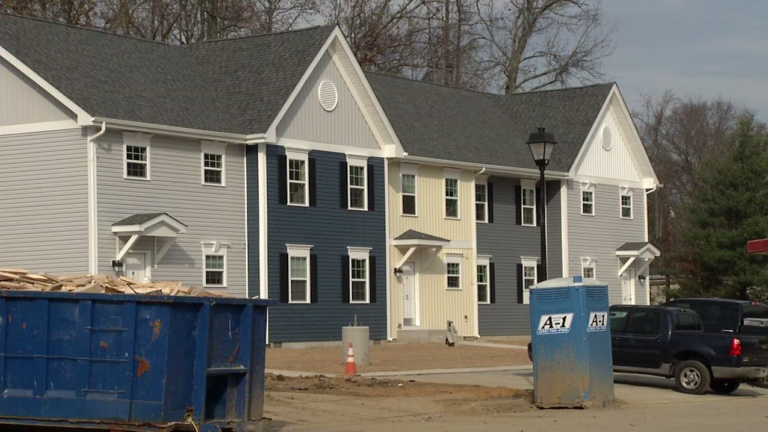 Tara Fisher says, "Children will be safe, families will be safe, it's going to be a nice addition I think."
Fisher has lived in the Village at McKee Branch development in Dover for three years. She says she can't wait for the changes ahead in her community.  
All of the townhomes will soon be completely renovated. It's through a partnership with the Milford Housing Development, Green Street Housing, and Fisher Architecture. Part of their goal, is to get rid of the stigma associated with what low income housing looks like.
Russell Huxtable, the vice president and COO of the Milford Housing Development Corporation says, "When we talk lower income, we're talking families that clerk in our stores, they're nursing assistants, they're regular folks. We don't need to make bad housing choices. You make good quality housing choices because everyone deserves a decent place to live."
The project, which is being financed by low-income housing tax credits, will convert 12 townhomes into 66 apartments. We're told 20 percent of the new homes will include handicap accessibility.  There will also be a new community center, security cameras, and recreation areas. The development has never had those features before.
Keith Fisher of Fisher Architecture says, "It's a project now that has been designed under the new Delaware state guidelines for storm water management."
The older units frequently suffered from crawlspace flooding. To fix that issue, the new buildings will be elevated. While the construction is underway, residents won't be put out.    
Fisher continues, "The developer and the owner worked very closely with the housing authority to find temporary housing. The people are being relocated and then they're brought back in. It's real life extreme makeover"
Dover Mayor Robin Christiansen is also looking forward to the completion of the project.  He believes in addition to providing a place for folks to live, it's also serving as an economic development tool.
Christiansen says the development is creating jobs through construction and helping Dover's building trade. He believes this is one of the keys to drawing new manufacturing companies to the area.
Mayor Christiansen continues, "One that I'm allowed to talk about is Advantech. It's bringing sixty established jobs, hopefully moving to one hundred out in the Garrison Technical Park. We have infrastructure, tax rates, utility rates and a work force that's going to make Dover conducive to Dover and central Kent County."
Applications are being accepted for the new units at the Village at McKee Branch; contact 302-422-8255 for more information.