UMES's Run Continues With OT Win Over Norfolk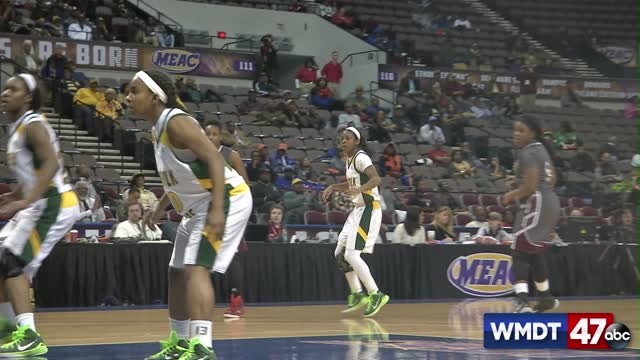 The University of Maryland Eastern Shore women's basketball team's Cinderella run continued Friday with a 69-64 overtime win against Norfolk. The win advances the Hawks to their first MEAC Championship game in program history, where they will take on Savannah State.
The Hawks and eagles would be in a battle in the first half with UMES hanging on to a slim lead throughout most of it. Alexis Udoji would clog up the paint defensively as the Eagles would settle for outside shots, which their were inconsistent with. The Hawks on the other hand had a healthy dose of Jessica Long getting to the basket, and creating shots for other players to grab their lead. Just before half, Norfolk would get a 1 legged runner three to go to cut the Hawks lead to just 2 headed to halftime.
Second half, and the Hawks would go on a run sparked by Moengaroa Subritzky. The red shirt freshman would connect on several outside shots as UMES would watch their lead grow to double figures at 14. But the Spartans would fight their way back with a full court press. Norfolk would come up with several steals and that seemed to get their offense going as they chipped away at the lead, bringing it all the way down to 1 with 30 seconds left. Alexis Hicks would hit a pair at the line to stretch the lead back to 3, but the Spartans would a pair of free throws at the other end as well. Subritzky would then get called for a travel and the Eagles would take over the with a chance to take the lead with 20 seconds left. They would have a strong drive to the cup but miss the lay in, grab the rebound and get fouled. Their post would miss the first free throw attempt but make the second o force overtime. There the Hawks took over. Long would score two quick baskets as they would grab a 6 point lead late. Subritzky would knock down her free throws as they Hawks would punch their ticket to the championship game.