Dunbar Stuns Kent Island In Final Seconds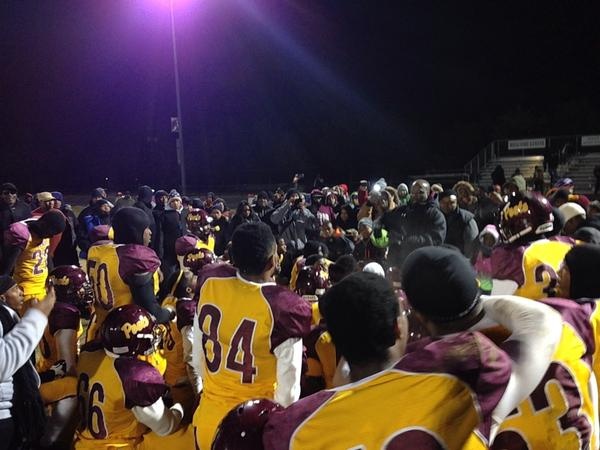 It came down to the final two seconds. The Maryland 2A State Semifinal lived up to its billing as Dunbar (11-3) found the endzone at the end of regulation, to complete their comeback, and defeat Kent Island (10-3) 24-21.
Kent Island started off the game with a bang. The Bucs drove 65 yards on their first drive of the game, with Stone Boone's 2-yard touchdown, giving KI an early 7-0 lead, which would hold for the whole first half. Boone would capitalize again on some holes in the defense, finding the endzone again for a 14-0 lead early in the second quarter.
Dunbar would get on the board mid-way thru the second quarter when Zionnez Spencer hit J'uan Campbell with a 44-yard touchdown pass, cutting the Bucs lead to 14-6 after the 2 point conversion failed. The score would stand at the half.
Early in the second half, the Poets would cut the lead to 14-12 after Spencer hit Juane Robinson for a 26-yard touchdown. Little later on though, Kent Island would push their lead after Stone Boone's 10-yard touchdown, and carrying the score to 21-12 entering the final quarter.
In the fourth, Dunbar would cut KI's lead to 21-18 after Spencer again found Juane Robinson, this time from 15-yards out, with 5:28 remaining in the game. After forcing a punt, the Poets would get the ball back deep in their own territory with a little over a minute remaining. Spencer would hit passes to various receivers, and carry a couple of times on the drive. Dunbar also converted a 3rd and 16 with less than a minute remaining in the game.
Spencer and the Poets would get to the 11-yard line, with two seconds remaining in the game. Spencer dropped back, had time to look off two receivers and found himself under pressure, slipping off a hit by a Kent Island defender then jumping over him, the quarterback would roll right and find Ivan Lomax in the front corner of the endzone for the win.
Before the final play Dunbar had never lead in the game. The Poets are on to the state championship next week at M&T Bank Stadium in Baltimore.