Reclaiming renewable energy act, helping to get to a more sustainable future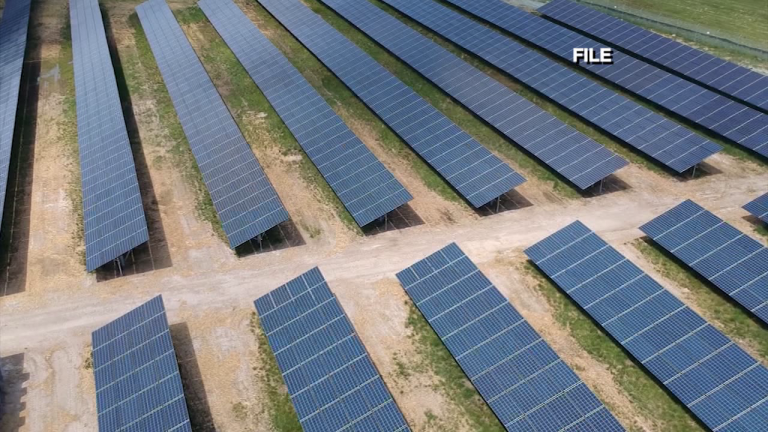 MARYLAND – A bill in the Maryland general assembly looks to clear up what is considered a renewable energy source. According to environmental groups, some of the current sources considered to be renewable aren't actually going to help in the fight against climate change.
House Bill 11
, otherwise known as the Reclaiming Renewable Energy Act is gaining some traction. Environmental group members tell 47 ABC, some of the methods used such as 'waste-to-energy' to clear up poultry waste are said to do more harm than good. "We need to move to renewable energy as quickly as possible, and that has to really be clean to make a difference," says Lily Hawkins with the MD Food and Water Watch.
The bill could alter Maryland's renewable energy standard which would include only alleged real and true sources of energy like solar, wind, and geothermal. However, the bill removes wood and garbage burning, and the controversial waste-to-energy. "It's still burning methane which produces CO2 which is going into our atmosphere and exasperating the climate problems that we're having," says Gabby Ross, an Assateague Coastkeeper with Assateague Coastal Trust.
Waste-to-energy has been an ongoing issue in recent years. It's a method of turning poultry waste into a renewable energy source, but according to organizations like ACT, it's the long-term effects that are of concern. "It's still super high in phosphorous, it has nitrogen in it so it's not solving the issue of getting it off the ground," says Ross. She adds, "We want to keep small farmers in business, we want to find better ways that are more efficient, less polluting."
The current standard sets up goals for what percentage of electricity consumers buy that's renewable and also defines what sources of energy count towards that goal; this bill would narrow those renewable choices. "Utility companies will be required to spend more and more money on clean energy, such that by 2030 50% of the energy that they sell to us, the ratepayers will be clean energy," says the bill's sponsor, Delegate Vaughn Stewart. "So Marylanders might take comfort, that every time they pay their Pepco bill, or their BG and E bill, they're helping to fuel these great clean energy targets."
Now the question of what to do with the poultry waste? Hawkins tells us, it comes down to straying away from factory farms. "Now what we see is a huge concentration of really large industrial-scale factory farms on the Eastern Shore raising chickens." Hawkins adds, "We need to get back to a system that supports more small farmers as well because right now we're only really benefiting large corporations."
Del. Stewart says there will be a strong push from biogas facilities and big poultry centers, but he and advocates believe now is the time to act. "We're one of the state's most vulnerable to the effects of climate change and we should really be leading the nation on the path to a sustainable energy economy." Del. Stewart adds, "So the bill cleans up the renewable portfolio standard by removing a few of the dirtiest energy sources that we currently subsidize and call clean energy, despite the fact that they're anything but."
Aside from climate change, we're told it's Marylanders' tax dollars that need to be a top priority. "It's really important that the public understand what their renewable energy money is going towards," says Hawkins. Ross adds, "All of these companies are literally making money based off of tax dollars going to fund these things, and that is a huge huge problem."
Hawkins also says those in opposition of the bill have been big poultry and bio-gas facilities. She states that this bill wouldn't put an end to them, but they would no longer be recognized as a renewable energy source in Maryland. "The bill wouldn't shut anyone down, just makes sure we don't go down the wrong path and lock ourselves into more fossil fuel infrastructure and worst practices in agriculture," she says.
Advocates also tell us, they want to work closely with the agriculture industry to find solutions to combat climate change.
There will be a hearing of the bill on March 4th, at 1 p.m. in the House Economic Matters.