Five interns will take part in first-ever Project SEARCH on the eastern shore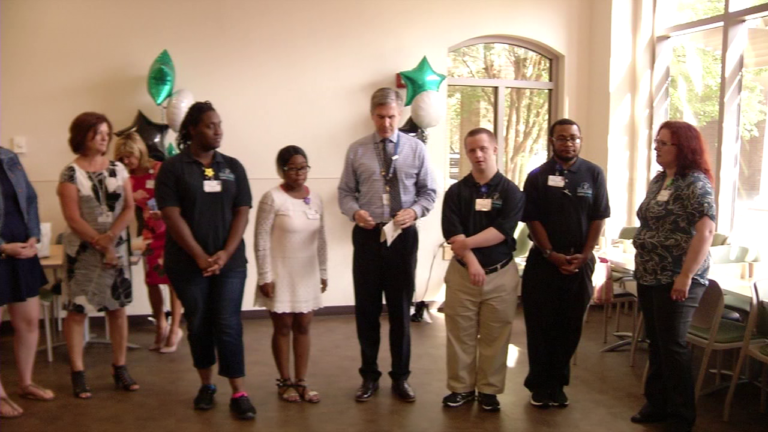 Project SEARCH has officially made its way to the eastern shore with the announcement that five local students will intern at Atlantic General Hospital in Berlin this year.
"I think it's part of our responsibility to make sure that we're helping people throughout the community, regardless of their abilities," said Michael Franklin, the president and CEO of Atlantic General Hospital.
Project SEARCH helps students with disabilities transition their way into the work force with employment opportunities.
"We have found that they – that employability is higher, and their success thereafter high school is greater," said Marcela Franczkowski, the assistant state superintendent of special education.
"You hear about it all the time, the success in employment that the students have and the business partnerships that you make at the host sites," said Matt Elburn, the transition coordinator for Worcester County Public Schools.
The five students who will be interning with AGH will be performing clerical jobs, scanning and filing paperwork, working in labs, and much more. Needless to say, they are excited about the opportunity.
"Yes I am, especially with the whole bio technical engineering. I learn how all the cat scans and MRIs work and it's really interesting," said Toni Dixon, an intern with AGH. "I'm just learning more, having more experiences, learning more skills around here. Like how to handle things."
Now that Project SEARCH has found a home on the eastern shore the next step is to try to expand the program.
"Information will spread. And so there might be other communities on the eastern shore, maybe towards Easton, or it may be that a couple of other counties will join with this one," said Carol Beatty, the secretary Maryland Department of Disabilities.
The hope for officials is Project SEARCH expands so do the opportunities for these students.
"The more variation and experience we can give the more it gives the students opportunity to learn what they do well and what they like to do," said Franklin.
There are also discussions of potentially expanding to industries such as the hospitality industry in Worcester County.