Record breaking shark caught at Mako Mania Tournament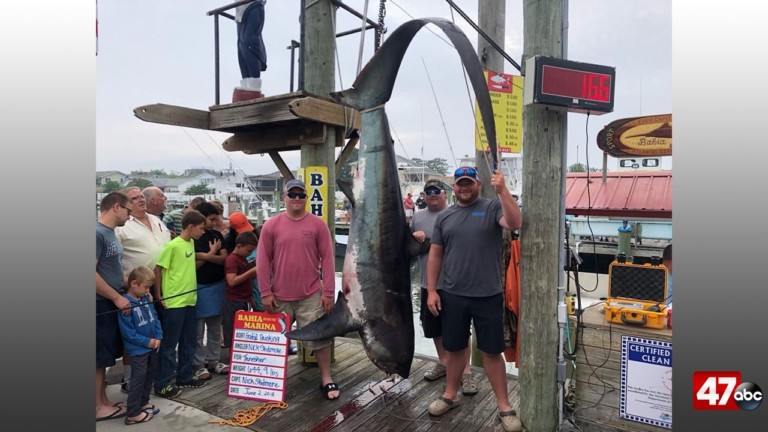 A group of men at the Mako Mania tournament got a surprise catch on Saturday after they reeled in a thresher shark weighing in at over 640 pounds.
Nick Skidmore was the angler on the boat that reel it in. The two other men on the boat were Ryan Oberholtzer and Brandon Miller. Skidmore tells 47 ABC, "The experience is once in a lifetime. It was an epic battle."
According to show host Scott Lenox from Hooked On OC, the fish was so big that the crew had to drag it boat side all the way back to Bahia Marina from about 57 miles offshore, and then float the fish up to the boat ramp.
According to Scott, the shark now holds a record breaking weight for thresher in the State of Maryland at 644.9 pounds. This beat the previous record by 2 pounds.
However, the Maryland Department of Natural Resources does not allow fish that have been snagged, shot, gaffed, speared, scaled or mutilated to be eligible for the Maryland Angler Award.
Maryland DNR is re-evaluating the catch so there is some "hope" for the crew that it will count.
"I'd love for it to be the new record, but I understand the rules. There are two reasons why I think they should consider it. First, dispatching the shark with a shotgun killers them instantly, no suffering," said Skidmore.
"According to the rules, you would have to tail rope the shark and drag it backwards until it died, which in my opinion is a slow and horrible way to end its life. You just had an epic battle with a monster and out of respect I believe it should be handled the most efficient and quickest way possible. Second reason is shear safety. Sharks of that size are very dangerous to handle, especially a thresher shark that has a 10 foot long tail that can whip around and knock you out."
"Would I love to be in the record books? Definitely. But either way, it was a catch of a lifetime for me."