Hogan says of Trump "I'm not a defender of the administration"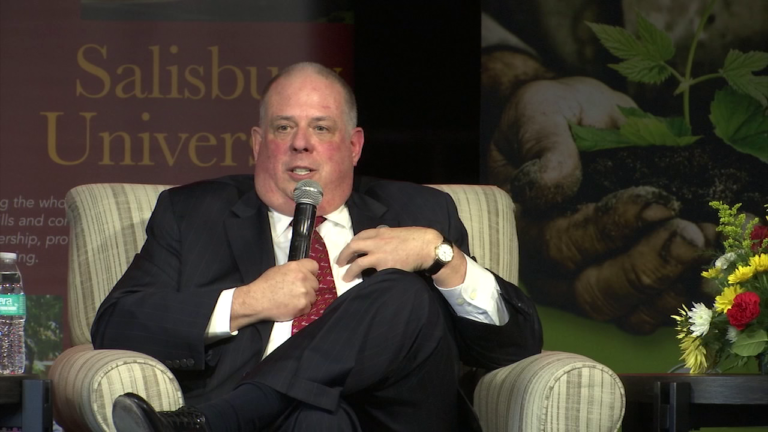 On Monday, Maryland Governor Larry Hogan (R) found himself in an unexpected situation.
The governor attended a forum in Salisbury with the state comptroller, Peter Franchot, resulting in Hogan taking a public position on the Trump Administration.
The forum, "A Conversation With Governor Larry Hogan and Comptroller Peter Franchot", was hosted by the Greater Salisbury Committee.
Franchot, a Democrat, chimed in on a question about funding for NASA Wallops, steering the direction towards Trump.
"You know I believe the 800 pound elephant in that question was Donald Trump. How do you have a relationship with that individual," Franchot said, to a crowd of roughly 50 people inside Headquarters Live!.
It was clear no one in attendance, not even Hogan, seemed to expect the conversation turning to President Donald Trump. However, Franchot seized the opportunity to defend his friend against attacks linking Hogan to Trump.
"I happen to think that this individual (Trump) is not fundamentally a good guy and the party, my party, wants to transfer that reputation for recklessness and vulgarity over to Governor Hogan. And Governor Hogan is about as far from Donald Trump as far as values and personal conduct as any individual could possibly be," Franchot said.
Although Franchot's comments were in defense of the governor, he opened the door for Hogan to speak about the president and his administration.
This was arguably his first public statement about his feelings toward the president. Hogan said it bothered him that after his State of the State, at the beginning of the month, the discussion was focused on Trump.
"The rhetoric after was why didn't he attack Donald Trump and why isn't he protesting Donald Trump," Hogan said.
"That's not my role as governor of Maryland and we're going to have to have (a) working relationship with this administration," Hogan said.
The governor said a working relationship was necessary for Maryland to secure federal funding for things like transportation projects and education.
"I'm not a defender of the administration but we're certainly going to work as best we can to make sure that Maryland (has) got a good relationship with our federal officers. And that includes the president and administration and the cabinet secretaries," Hogan said.
Hogan added he's getting tired of people alleging he's connected to the actions of the Trump administration.
"Just trying to tie me everyday to what Donald Trump tweeted last night is getting a little bit ridiculous," Hogan said.
After an event, where Hogan announced funds coming to the lower shore, he was also critical of SJR 5.
SJR 5 is a Democrat backed resolution that would give state Attorney General, Brian Frosh, the ability to sue the federal government without getting permission from the governor.
"It's unfortunate they seem to be trying to change the basic laws of Maryland just because we have a governor of a different party," Hogan said. "I wish that the legislature would focus on the problems we have here in Maryland and the 31 proposals we have in front of the legislature, rather than trying to just play politics in Washington. That's not really their job."
The official name of the joint resolution is the "The Maryland Defense Act of 2017".
The act passed quickly through the senate last week, after a stiff objection from Republicans.
Friday afternoon it passed out of a committee in the house and is expected to hit the house floor Monday night.
Republicans have raised concerns that passing the legislation may put the state at risk for federal funding