Operation SEAs the Day host "Heroes Welcome Escort"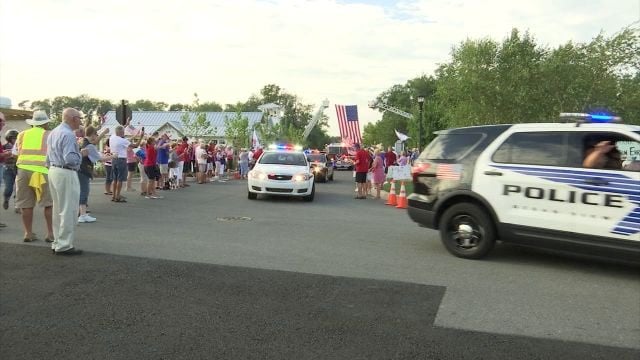 For Operation SEAs the Day it's not just about honoring the men and women who have served in the U.S. Armed Force, it's about giving wounded war heroes nurturing, welcoming week at the beach, as a thank you.
An idea that started with two women, 4 years ago, has grown into a rewarding experience for everyone involved. Annette Reeping of Operation SEAs the Day, says the hope is that events like Friday's motorcade welcome home event will help ease war vets pain, recognize them, and help them move forward.
Reeping tells 47 ABC, "We don't understand the worlds they live in. We have a very generous community that opened their arms to our veterans."
So generous that they've opened their homes for these vets to stay for 5 days for their annual Warrior Beach Week. But it's not only Bethany beach homeowners pitching in, it's the businesses as well, providing amenities including meals, golf, paddle boarding, boating, and fishing to name a few. William Scott is a volunteer and he says it's a blessing to know that he's able to be there to help out in any way possible.
Scott tells 47 ABC, "A lot of times we take for granted some of these people have never been to the ocean, they've never seen the Atlantic, and to them it's just a great opportunity and I just enjoy and love giving back to the best of my ability."
One war veteran who's especially thankful is Adam Stasiak. After joining the Army Reserves in 1999, Stasiak was put on active duty in 2003 then spent 2004 to 2006 in Iraq. In 2009 he was honorably discharged. But now, he suffers from post traumatic stress disorder with a traumatic brain injury. Stasiak joined operation seas the day last year and says, it's been wonderful.
Stasiak tells 47 ABC, "I think one of the biggest ways it's helped me is to reconnect with my family." Stasiak says he's met plenty of people along the way suffering from similar injuries. He tells 47 ABC, "They've inspired us to see how one person handles their situation compared to how I handle it or to see how one person does something better that I could do and maybe something I do better that someone else could do that's an amazing thing."
Also in attendance for Fridays event, Senator Tom Carper. As a retired Navy captain, Senator Carper says he comes from part of a generation that came home from war with an unfriendly welcome. Carper says a welcome like Fridays is what he wishes his generation of soldiers had, but he's delighted to see the vets got it on Friday and in such a special way.
Senator Carper tells 47 ABC, "This is tangible, this is come to our community spend the week, need a place to stay for you and your family, we'll provide that place."
To learn more about Operation SEAs the Day you can visit their website which is, http://operationseastheday.org/