OC beach patrol captain in hot water over email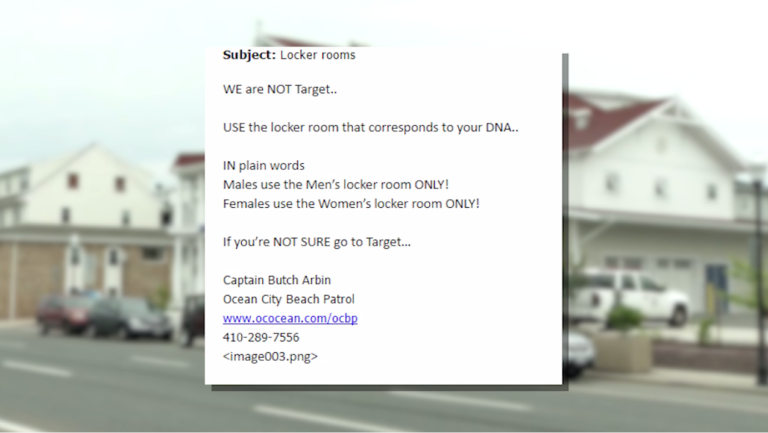 The email sent by long time Ocean City Beach Patrol Captain Butch Arbin sent to his employees on Sunday reads as follows…
"We are NOT Target. Use the locker room that corresponds to your DNA. Males use the Men's locker room ONLY! Females use the women's locker room ONLY!
If you're NOT SURE go to TARGET…."
According to town officials it was sent in response to a complaint Arbin got about men using the women's locker room.
Town spokeswoman Jessica Water says, "It's a staff locker room. It's where you know they change in and out of their bathing suits. They take showers and out of convenience some of the men were using it making some of the females uncomfortable."
Arbin claims he trying to use humor to address the matter and not take a stance on transgender issues. We're told the message offended some patrol members. However, it got mixed reviews from folks on the boardwalk.
Barbara Long says, "He has a right to voice his opinion like everybody else."
Paige Christopher says, "No, there's really no business putting that information out there."
That's how the town feels. Waters says freedom of speech goes out the window when you're a public official.
She goes on, "It was unprofessional. It was insensitive and it's certainly not acceptable in the town of Ocean City."
After one of the patrols took Arbin's initial email to the press, he sent two others.
The first appeared to show he was upset the issue wasn't handled internally. However, he did also apologize for offending anyone. In the second email sent several hours later,  he apologized again, this time calling his comments "insensitive."
The town of Ocean City is still taking administrative action. Waters says, "I think he learned a hard lesson."