Putting stricter zoning regulations on poultry houses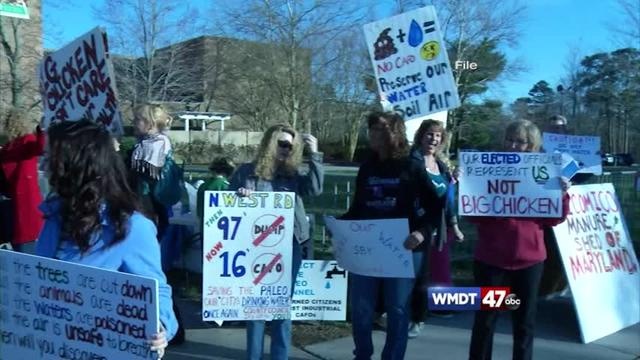 As it stands now the zoning regulations in Wicomico County say a poultry house can be no less than 100 ft. away from residential dwellings, which is about a third of a football field. Monday the county council held a special work session to change that.
"What we're trying to do is establish broader setbacks as well as buffers so that the poultry houses, not only the poultry houses themselves, buy any emissions that may come out don't compromise the their surrounding communities," said county council president John Cannon.
During the work session council members approved a draft that would create setbacks of 400 ft. in A-1 agricultural areas, and a minimum of 500 ft. in designated growth areas.
At the edge of those areas a minimum of four rows of trees would need to be installed for aesthetic reasons. Officials say that draft will be used to write new legislation that will still have to go through the approval process.
As part of that process, when the new zoning legislation is proposed the county will hold two public hearings for citizens to voice their concerns. Despite this, Concerned Citizens against Industrial Concentrated Animal Feeding Operations or CAFO's are asking for more strict regulations.
"What's enough is to put in an environmental impact statement on each property and figure out what types of things will affect the people living around it, the environment, water quality," said Gabby Cammarata.
Last week a state panel specified that as part of the proposal process environmental experts do come out and survey the area to make sure there are no risks.
They also said the 10 proposed new poultry houses on Naylor Mill Rd. do not pose any environmental or health risks. At this point Cannon does see the county stopping the application process for those houses.
"My personal opinion, as far as I've seen it played out, that I had concern that we would not be able to stop that process, it could be that the process could be halted. What it looks like to me, from this stage of the game, that it would probably involve some type of litigation," Cannon said.
Concerned citizens against CAFO's have said that since the proposed houses off Naylor Mil Rd. have not yet gotten their building permit that they want the process to be stopped.
One of the concerns that they have brought up about the proposed chicken houses, is that if built, they would decrease the property value of the homes in the area.
Real estate appraiser William McCain, of W.R. McCain and Associates said property value comes down to location.
In terms of poultry houses, factors such as the size of the houses, whether there are visual buffers, and how close they are would affect whether a homes property value would drop.
"If (the poultry houses are) visual, if the odors are are noticeable, you know there are certainly issues that could come into play when we're talking about property values," McCain said.
McCain also said marketability is something to consider, as it might be harder to market a house that is very close to a large poultry house operation.