Local first responders team up in an active shooter training exercise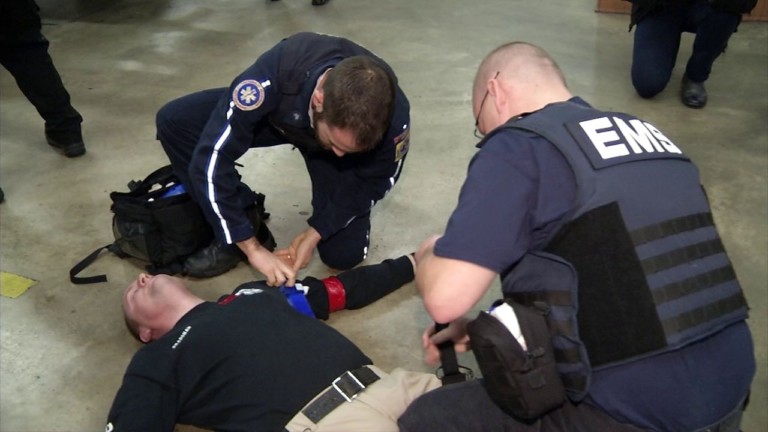 Guns drawn,a  body on the ground, EMS responding, at first glance this might look frightening. However, the guns are fake and the body was an officer pretending to be wounded. Monday afternoon, this was the scene of an active shooter exercise for the Millville Fire and Ocean View Police Department.
John Watson, the EMS Chief of the Millville Fire Department says, "We need to learn to work universally together, it's not the typical patient that we see. There's gunshot wounds, blast wounds and we are in a hostile environment, and we need to able to work well with the police."
Mike Marino, the trainer guiding these two agencies tells us getting police and EMS  on the same page prior to a major emergency is key to saving lives. He says  many in law enforcement have been calling for change  since 1999  when the Columbine shooting took the lives of 13 people and injured 20.
"We are seeing an operational gap in the need to get medical assets in these situations much sooner so there are preventable causes of death that fire, E-M-S, and law enforcement agencies can deal with this specific training equipment," says Marino.
The departments participated in a variety of scenarios. One of the scenarios was  crews responding to a wounded victim during an active shooter scene. Police first secured the scene for any potential harm, but the work did not end there.
   
Kenneth McLaughlin the Chief of Police in Ocean View says, "we've stopped the killing but now our goal is to stop the dying, we have a number of injured people that may need to be treated."
EMS learned techniques to treat victims during hostile situations and to be on the lookout for threats while attending to the victim. They also learned to effectively communicate with police enforcement using universal language.
John Watson, the EMS Chief of the Millville Fire Department says,"We try to use plain language so we both understand each other."
Both departments tell us that through this training they hope to be better prepared if they're  faced in a situation like this.