ACLU launch mobile justice app in Maryland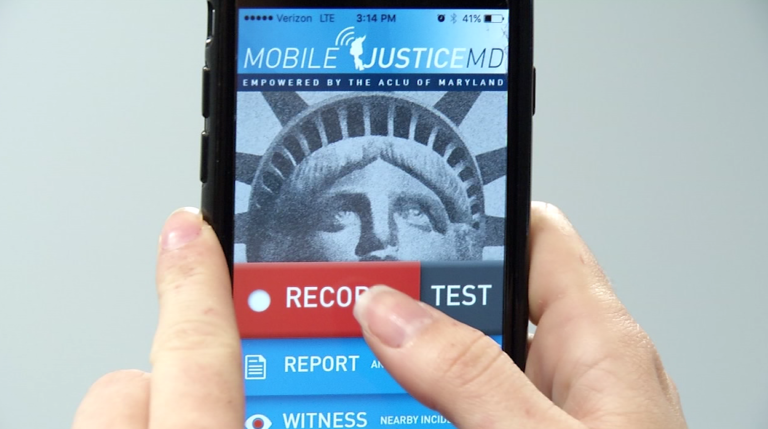 Mobile Justice MD is a new free app available in English and Spanish. It was launched by the Maryland Branch of the American Civil Liberties Union on Friday.
The idea is for people to use the app to shoot, upload and send videos of their encounters with law enforcement. This is in response to series of reports of injustices involving police. One of the most high- profile cases in Maryland is the death of Freddy Gray in Baltimore.         
Raushan Davis, Salisbury University NAACP board member "I think it's a good idea. Any social or technology that provides more of a defense mechanism to students and citizens to protect them from social injustices or racial injustices is always a good idea."
The app provides a few different features. For example, when you click "rights" on the app, the ACLU breaks down what someone can legally do when they've been stopped, searched, or questioned. The app also explains that people have the right to record officers while they're engaged in law enforcement activity. Users can also receive alerts for incidents involving law enforcement going on in your area.
Davis continues, "I did like the fact that you can actually detail the report as well."
If something isn't caught on camera, you can write a report and send it in. However, video can be captured by pressing one tab.
The video is sent directly to the user's local ACLU office. 47 ABC showed the app to Wicomico County Sheriff Mike Lewis and he doesn't see a problem with it at all.
Sheriff Lewis continues, "Anything I can do better professionalize the Wicomico County Sheriff Office and our profession, I'm all for it. I don't want rogue police officers working for me."
For folks who say the videos on the app don't show the whole story, Sheriff Lewis has an answer for them.
He continues, "A proper police investigator will help identify what happened before the recording started and what happened after recording stopped. That could be a good investigative tool for law enforcement."
47 ABC tested how quickly and easily the app can be opened, in case you need it. On both Apple and Android smart phones, you can open the app simply by using voice command, and saying "open MD Mobile Justice."
This Mobile Justice app is available in eighteen states. Folks on Delmarva can access it in Maryland and Virginia.
All recordings are submitted anonymously, but you do have the option to include your contact information in case your local ACLU has any follow up questions.
If you're out of the state that corresponds with your app, the video will not be processed to your ACLU office. However, the video will be saved to your phone.