Willards fire destroys chicken house; kills ~19,000 chickens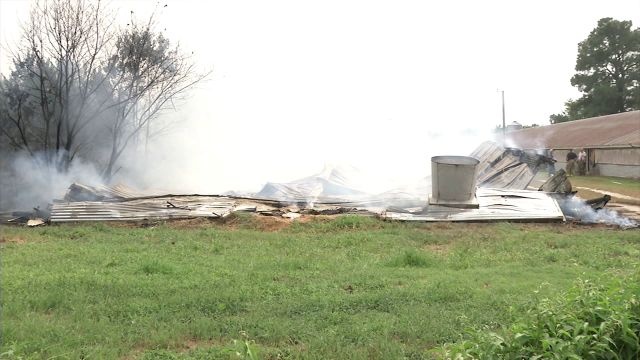 Ash and twisted metal was all that remained after a fire had it's way with what was a chicken house in Willards.
Dozens of firefighters from Maryland and Delaware battled the blaze for several hours Wednesday afternoon.
According to Maryland Fire Marshals, the fire claimed close to 19,000 chickens as well as one of two chicken houses.
Damages are estimated at $320,000.
Powellville Fire Department Assistant Chief Corey Mitchell tells 47 ABC that putting the fire out was made a bit more difficult due to it's rural location.
"Water supply ends up being our main enemy. Obviously, it's extremely difficult here with the two chicken houses as close together."Said, Mitchell, "we were kind of stuck with putting engines and tankers at each end and fight it into the middle."
None of the personnel on scene suffered any injuries.
A big reason was because of the way crews battled the flames, fighting the fire outside-in.
"We like to describe them as defensive operations. With chicken houses any, type of older building.", Said Mitchell.
The Maryland State Fire Marshal's Office says they have not yet determined the cause of the fire.
However, one of the owners of the facility told us that he believes an electric malfunction may be to blame. We're also told that the chickens inside of the house were being grown for Tyson Foods.