Eastern Shore Dropouts: Wicomico County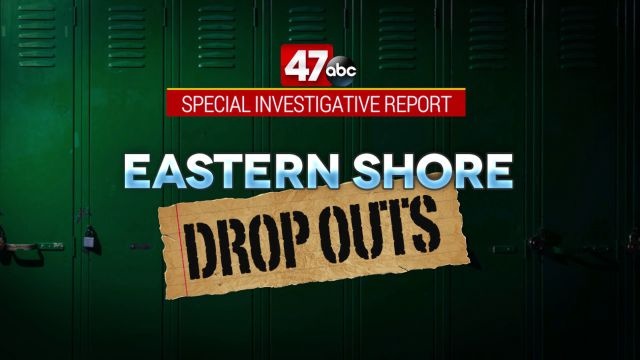 Across the nation, dropout rates are improving. According to the U.S. Department of Education, more students are graduating than ever.
But still, as Wicomico County Superintendent Dr. John Fredericksen says, "If we have one kid drop out of school, that's one too many."
Dr. John Fredericksen has been in working in education for decades — in the county for six years. He has seen his fair share of students drop out and he has seen the consequences.
"It's critically important to keep kids in school," Fredericksen says, "the longer they stay in school, if not, at least to get to be graduates of high school, is crucial because they will literally earn well over a hundred thousand dollars more if they just have a high school diploma."
That's over the course of their careers. However, they're also less likely to have a solid career in the first place. The national unemployment rate for those without a high school diploma is consistently higher than it is for high school graduates, according to the U.S. Labor Department.
The Maryland Department of Education prefers to look at dropout statistics from an integrated standpoint – called the "4-Year-Adjusted Cohort Rate." Basically, instead of looking at how many kids dropped out in a given year, it looks at how many drop out in a given class, over the course of 4 years, while also adjusting if a student enrolls again after dropping out, or transfers to another school district.
So for example, statewide for the class of 2010, when it was all said and done, 11.93% of the class had dropped out. The numbers have improved in Maryland. The next four graduating classes saw steadily decreasing dropout rates — down to 8.35% in 2014.
Wicomico County's dropout rate has also fallen, from 15.41% to just over 11%, in the same time frame.
Despite the improvements, that's still 109 students.
What is it that leads them to drop out? Dr. Fredericksen says often, they are enticed by something more interesting.
"Kids are drawn off by a lot of different things. You know if a young person gets interested in cars, or motorcycles or whatever, those are pretty fun things, and they can also make money at it," he says.
And money may be what ultimately pulls a kid away from school. Not because it's fun to have, but because it's a must-have.
"A lot of these young people are coming from a situation of poverty in the home. They qualify for free and reduced meals. They know if they can go out and make a hundred bucks, life is going to be better at their house. And I know kids in our schools that are making the house payments and the rent payments for their families," Dr. Fredericksen says.
In Wicomico County, of the students who drop out, 22.4% live in poverty, according to the Maryland Department of Education.
"I know multiple kids, that have dropped out over the years, and the only reason they dropped out — they loved school — was to support their family. And they were out there working two, three, four low-pay jobs with no benefits, and everybody's chipping in to put bread on the table," Fredericksen adds.
Once that kid drops out, he or she becomes less likely to earn enough money to get the family out of that cycle of poverty. But as Dr. Fredericksen says, it's tough to talk about the importance of education, when there's barely enough food in the house.
There are also demographic differences in the dropout rates. According to the Maryland Department of Education, in Wicomico County, among black students, the dropout rate is 18.6%, higher than the state's rate of 12.4%. Dr. Fredericksen says to bring that number down, teachers will have to reach out to African-American kids more, to make a real effort to understand what their background might be actually be like.
"In some parts of America, it's truly a white experience, in some parts of the decision-making, it's just a white landowner's experience. But in many parts of our country, there are a lot of other players, that participated in the development of our country, and made a difference, a huge difference. And so we as teachers are going to have to change," Frederickson says.
The key, irrespective of race, he says, is instead of talking to the student about their opportunities, to show them, because schoolwork can be crushing if a student doesn't see the academic goal line.
As Dr. Fredericksen puts it, "I think really hard to grind through 'one more story to read,' and write a little paper about, or 'another twenty math problems,' especially today with the word problems, or some of the other projects, if you don't see some benefits down the line."
That's where a program called Naviance comes in. It's software that helps students prepare for college and investigate career paths based on their interest.
In Wicomico County, students start in 6th grade, building their profiles. They can then build upon it throughout their academic careers. As the students explore their interests, the program lays down a blueprint to achieve such a career. For example, if a student is interested in becoming a doctor, Naviance shows that student what he or she should be doing now to get there.
Naviance also speeds up the process of finding out what a student is into, not because it replaces human counseling, but complements it.
"The counselor can then spend a few minutes talking to the kid and say 'What about this? Have you thought about that? Have you tried this? Why not try this one course, you might like it,'" Dr. Fredericksen says
Krista Brown is one of those counselors at Bennett High School.
"There's career aptitude stuff on there, there are personality surveys on there, the parents become engaged in it. It's like an electronic portfolio that, for the first time we have everything at our fingertips. The kids are super excited about it because it's individualized," Brown says.
As a guidance counselor, Brown has seen first-hand what some students are up against in terms of poverty. It can be bleak.
"We had one child who was ashamed. And he didn't have any food and he didn't have anywhere to stay. And finally the third day he was falling asleep in school and acting out of the ordinary and I said, "What's going on with you?" and it turned out — he didn't have a place to live," Brown says.
Brown says that particular student got help from a community organization and is staying in school, which is the goal of a big change in Maryland this year.
A 2012 Maryland law is going into effect, and raising the minimum dropout age from 16 to 17.
Dr. Fredericksen is optimistic, adding "If they are forced to stay until they're 17, that's just a little bit more of a nudge, they've only got one more year to go, that's only 180 days. Maybe they can make it."
For the 2017-2018 school year, the minimum dropout age increases again, to 18, where it will remain. Kids who try to drop out will likely end up in truancy court, where the end goal is to get students back into classes.
Laws and software programs aside, Dr. Fredericksen says the top challenge for educators is to seek to truly understand the lives of their students.