Ocean View PD hosts "Officer For A Day"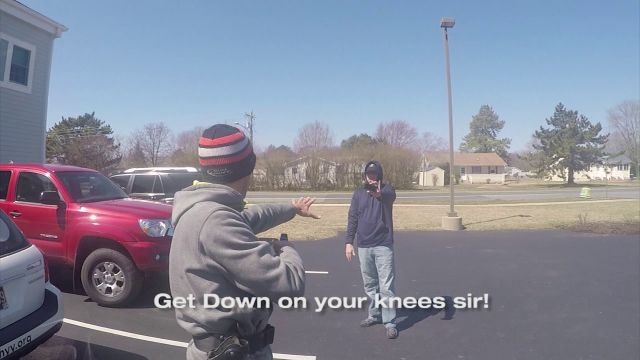 Interactions and altercations between police and suspects are probably something you may have seen on T.V. or in a movie but for officers nationwide, it's a reality they face everyday. It can be dangerous and there's no script.
Ocean View Police Chief Ken McLaughlin says, "Always in the back of your mind, you're worried about danger."
It's a reason why Ocean View Police wanted to educate the public on the dangers they and other officers face on the job. During their first-ever "Officer For A Day" event, authorities encouraged area citizens to role-play while armed with unloaded handguns. Meanwhile, local officers played suspects.
Ocean View brought in the help from local law enforcement plus 0311 Tactical Solutions, a Missouri-based company that trains law enforcement across the country.
While some of the scenarios played out by area residents did not end well in the "officers'" favors, it was not real. Therefore, everyone was given a second chance. Unfortunately, that's not guaranteed for every officer or civilian on the street.
"We wanted you to walk a mile in our shoes, so to speak and see that you do get scared, and there's a lot of uncertainty. Not every call is routine." Says Chief McLaughlin.
Brian Rossomanno, one of the leaders from 0311, is a sergeant at Saint Louis Missouri Police. Sergeant Rossomanno was actually on the grounds of Ferguson, from the protests to the night jurors decided to not indict Officer Darren Wilson in the fatal shooting of unarmed teen Michael Brown.
Sergeant Rossomanno explained on Monday, officers are not trained to kill or wound. Instead, he says they are trained to stop a threat. It's a tactic Chief McLaughlin understands.
"It's not our job to die in the line of duty, you know? We have families, we have folks we want to go home to at the end of the evening at the end of the shift." Says Chief McLaughlin.
Participants like Issac Upshur say Monday's exercise was a learning experience.
"The public should be more aware of what police have to go through." Says Upshur. "They save a lot of lives and these agitators that provoke this…there's people sayin' this…knowing that's not all on the police."
Ocean View authorities say they'd like to host a round-table discussion about policing relations in the near future.